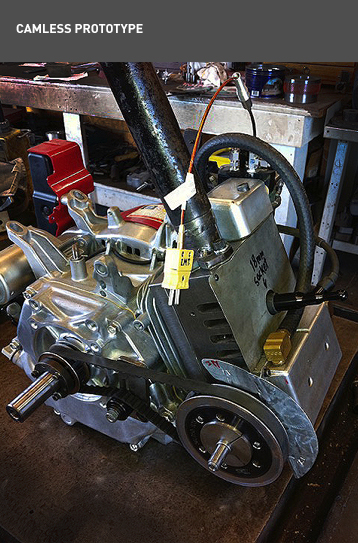 An evolutionary design for ALL engines.
The GlideValve was tested on a single cylinder prototype engine, and was designed for proof of concept and efficiency purposes. It's piston size and air flow requirements are typical of most car and truck engines, thus GlideValve designs are available for twin, four, six and eight cylinder engines – from small hybrids up to large diesels. And based on the evaluations to date by a nationally recognized testing facility, a single GlideValve is more efficient than traditional poppet valves.
GlideValve fixes what doesn't work.
Engineers have spent plenty of time on valve trains. And while they have made great strides, the fundamental problem still exists: the poppet valve is simply not the best way to get the job done.Recent inventions have succeeded in making valves open and close quickly but at the cost of complexity. The top half of a modern overhead cam engine is a busy, crowded place filled with valves, springs, seals, gaskets, bearings and more. It works reasonably well, but at the cost of complexity.
The GlideValve eliminates virtually all traditional valve gear. Instead of a complicated OHC system, each GlideValve (covering both intake and exhaust) has just two moving parts when connected to an actuator.
Instead of a towering camshaft and multiple poppet valve arrangement, it has a super low profile that drastically lowers engine height.
The GlideValve moves air through the interior of the valve, and seals the valve with rings around the exterior of the valve. This tubular design allow the valve to open and close without the need of entering the combustion chamber like the poppet valve. This design advantage allows two glide valves to move more air per cylinder than four poppet valves.
Having the ability to time the engine of the fly can achieve as much as 30% more efficiency from the engine, without the fear of a valve / piston collision. Also, emissions are significantly improved through complete combustion of the fuel due to the ability to achieve zero overlap with the valves.
.
Two options for implementation.
Retrofit for head only

Add the GlideValve to your existing engine block without modifying the engine compartment infrastructure, so the bottom half of the engine doesn't change.

Single piece block and head designThe head and block can be manufactured as one piece, so no head bolts or head gaskets would be required.